Here are my top 4th of July last minute fashion finds for the whole family! Most of these are on Amazon, because let's face it, it can be easier to shop online amirite? But some can be picked up in person for those who'd rather try them on.
I am a part of the Amazon Affiliates ad program.
Women's
This is my casual fave, because I just ordered it. I bought this dress in grey awhile ago and have liked it so much I went with a navy version when I needed another comfy cotton dress this year.
2. Chances are you already own a white tee shirt or a blue dress. How about this cute red denim jacket to go overtop? This would be perfect for watching fireworks over the Hudson into the evening when it gets chilly… and I'm loving the not-too-bright shade of red chosen by Free People for this.
3. It may be a little late for this one, but I had to give a shoutout to my favorite style of Patriotic tee this year… the women's My Country Tis Of Thee shirts! I love this song, and this sweet version on Etsy has pretty muted patriotic tones.
4. This red stripey number would be dazzling with a chambray top, or lacey kimono overtop! $20 on Amazon (click photo to shop)
5. Plus size ladies! This one is for you. I looove these floor length maxi dresses, I have a couple for winter and am dying to try the summer version. Petite ladies may need to do a quick hem (about $10 at your local dry cleaners if you can't sew). In any case, this one is classy, stylish, and comes in many on-theme colors.
6. I read an article recently about how some women hate Loft? Who are these women! I love Loft. It's always appropriate and has something flattering. This list would not be complete without a chambray dress, and this is one that WON'T fit you like a frumpy bag as chambray can sometimes do.
7. My jaw may have dropped when I saw this stunning dress in Town and Country this week. Jennifer Lake styles it so beautifully, and it is available at Nordstrom in both plus and non-plus sizes!
Men's
Okay to be honest, it might be a bit difficult to get your guy to go "on theme" for this one. But, most of these will work all season, and perhaps the fact that dressing up is ahem, one's patriotic duty, is it not? 😉 might entice him into wearing some red, white, or blue.
Perfect for the poolside, this Old Navy budget pick is classy and stylish. Pair it with khakis or swim shorts, anything but jeans.
2. Speaking of swim shorts? How about these lobster ones? My husband wouldn't be caught dead in these, but I hope yours would, because they are awesome and super festive.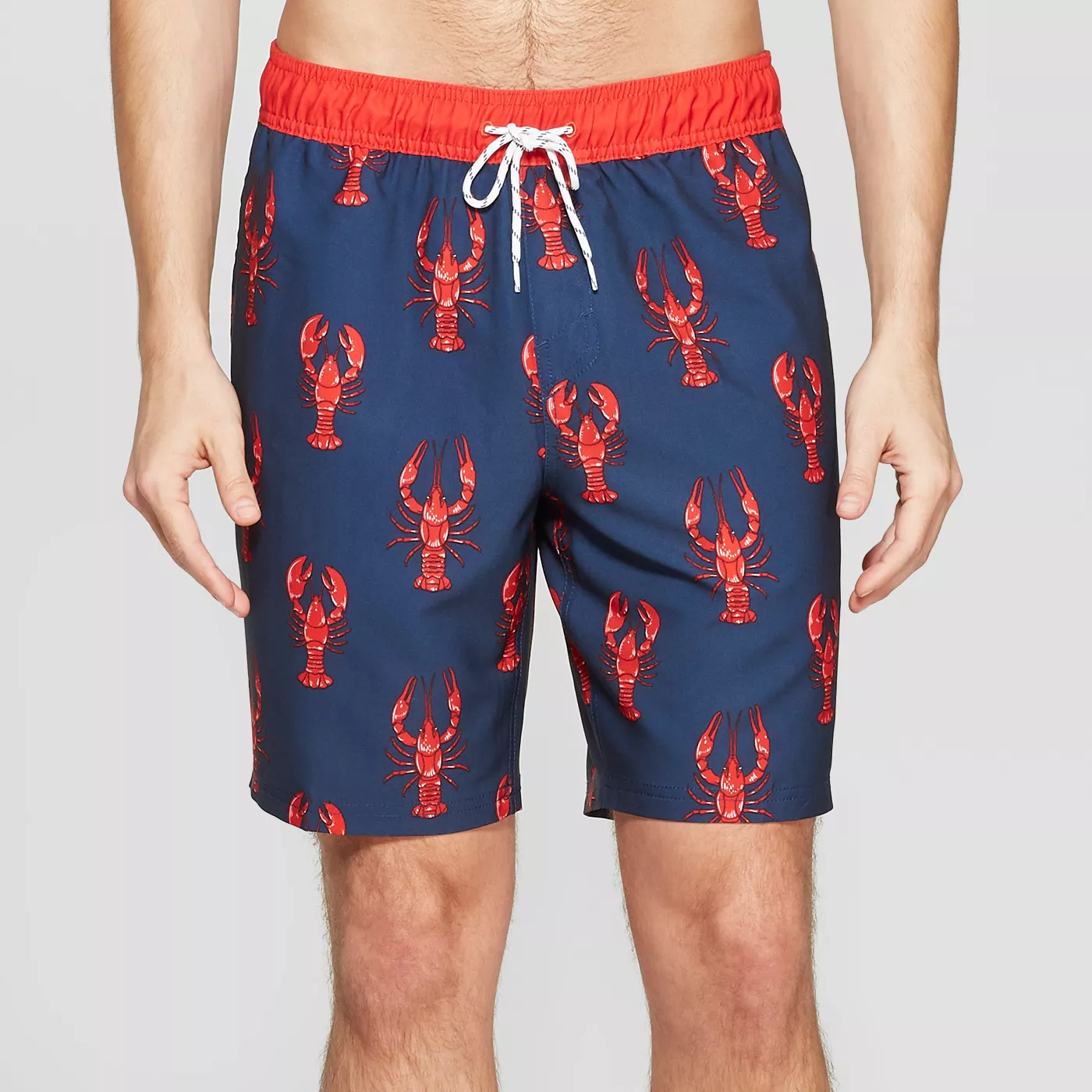 3. Realistically though, it is likely that most men will need a new pack of white tees for the summer. Whether he wears these under dress shirts to work or by the pool side, these 100% cotton ones aren't a bad buy.
Kids
This little girl's dress is toooo cute. Those flutter sleeves! That flag! Could she not wear this all summer long? I say yes.
2. This classic little boy's outfit couldn't be cuter. It comes in two color options, but I just love the red top with blue stripey shorts.
3. We won't forget the baby! Chances are baby has a white onesie lying around, and that would pair perfectly with one of these cute patriotic bibs. If the baby spits up on one, just swap it out, there's a pack of four so you won't have your holiday outfit ruined in one go!
So what's your family sporting this holiday? And where are you heading? Sound off in the comment section!